After months of rain and dark nights, spring arrived with a bang this year, (along with lockdown) and we are now facing dry paddocks, flies and sunburn.
Shows may have been cancelled, but with the restrictions lifting people are getting back on board and back out training.  With all this glorious weather we have had, my equestrian tan is in full swing, with burnt shoulders and icy white legs. However, like the weather, our summer collection this year is gorgeous, with a variety of colours featuring throughout.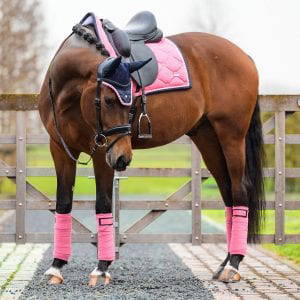 PS of Sweden never fail to disappoint, and their S/S20 collection has been so popular. The summery vanilla and rich cranberry were my favourites (and a set of each came to live with me!) and the classy walnut and charcoal were admired by all. We also have the matching polo shirts, that come in a technical, breathable fabric with a flattering cut. Keep your eyes peeled for some extra colours that will be appearing very soon! Again, they feature beautiful pastel shades that are perfect for riding in the sunshine.
We've also got a great variety from Kingsland this season. For the matchy lovers, the Vintage Violet and Blue Ombre combo has been a huge hit. The beautiful Seldovia pad with its holographic badge is simply divine. It's a light weight, soft pad, perfect for the summer, and it's £64.95 price tag is amazing for such a quality product.
If like me you love a T-shirt that will go great with a pair of shorts as well as your breeches, the Ariana and Agda are the ones for you. The Ariana comes in Blue China, a great shade for the summer, and it features a technical fabric that's quick drying and stretchy. You can also team it with leggings for the gyms when they re-open! The mustard yellow on the Agda is a classic summer tee, made of soft cotton, its light weight and very comfortable. I love it with a pair of denim shorts, which I've been changing into after my rides on those hot days.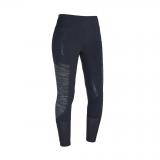 When it comes to summer breeches, our Kingsland riding tights have been flying out! Their riding tights feature fantastic quality material that wash and wear forever. The fabric is cool and breathable while the full seat gives you grip in the saddle, and the thick waistbands make for a very flattering shape. If you prefer a breech, the HV Polo summer weight Tiffany and Madonna are the styles you need. The Madonna's are made with a very stretchy, almost gym leggings type fabric, and they feature a sporty design with white piping and a zip pocket. The Tiffany is a comfortable, classic style breech, with fancy stitched details and a regular rise waist. HV POLO breeches feature the four way stretch fabric which makes them very comfortable and doesn't restrict you in the saddle.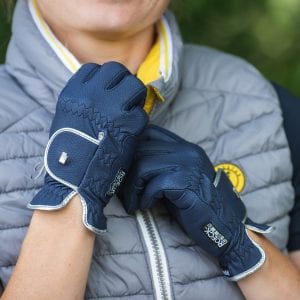 No matter how warm it is, I always ride in gloves. Roeckl have been my go-to brand for many years and I am so happy that I get to sell this amazing brand.  I bought some of the Lona loves for this season, they feature the classic Roeck grip but have a contrasting colour piping, which I thought looked stylish.  I've also started riding in the Laila Suntan Glove, and I can say I am definitely a huge fan. These gloves feature a thin mesh on the back of the hand, which means you don't get the tan line on your wrist. It's a great idea and they work really well. The palm side has the standard grip that soft and flexible. They are so light and breathable which is perfect for those warm rides. They come in black and white.
From wanting to catch some rays to protecting yourself, our gorgeous Kastel range feature SPF 30 built into the fabric. Kastel is owned by the renowned dressage rider Charlotte Jorst, who battled skin cancer and decided to create a clothing brand for riders that offered products that would protect their skin. As horsey folk we are outside a lot, and protecting your skin from the sun is vital. The fabric is very light and has mesh panels under the arms to keep you cool.  These tops are designed for riders, by riders and they are a great addition to your summer wardrobe.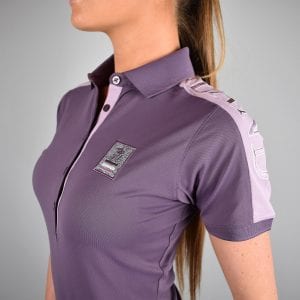 If you like to keep the glare off your face (and hide your hat hair) the Kingsland summer caps are a great accessory.  You can get them in classic Navy or Blue China. Either colour will go with most outfits, so they are an easy accessory to wear and keep your head protected.
If you want to update your competition wardrobe, we have some fantastic summer show shirt from Kingsland, the Olivetta is a classic white shirt with stunning crystal details. The Benissa comes in midnight navy and features a zip up collar.
In addition to all of our new products, our summer sale is going strong. We have a great range of light weight jackets, perfect for those early morning or late evening yard visits. You can grab a bargain polo shirt or get yourself a coat ready for next winter at up to 50% off!
Summer is a great season to experiment with a bit of colour in your wardrobe. Classic colours such a navy and grey look great teamed with a pastel pink or yellow. Be a bit brave when shopping for your new wardrobe and add a splash of colour to brighten your mood.  We are a small boutique offering premium brands, but we offer a wide range of products to cover your equestrian wardrobe needs.
As always, we are on hand to answer any questions you may have about the products and their sizing. We will also put together outfits ideas for you if you need some inspiration.  Don't forget to check out our social media on Facebook, Instagram and Twitter, where we regularly post gorgeous outfit combo's, and features on our amazing ambassadors.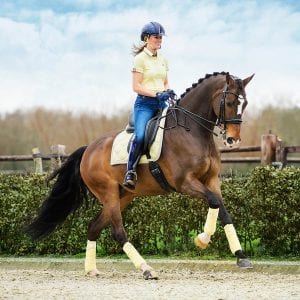 Stay safe and have a fantastic summer with your horses!
Kelly xx