For me, there's nothing better than freestyle Sundays. You're sort of packed up and ready to sleep in your own bed again. Even the dogs know they'll be heading home soon. Snickers can feel it in the air. Even if he's a bit tired, he rallies, knowing it's freestyle day and he'll soon be back in his own paddock.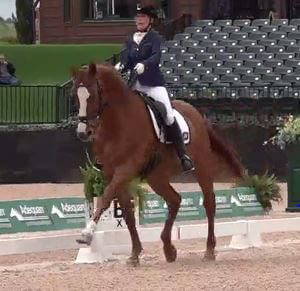 My ride time is 2:08. I listen to my freestyle music, glancing at my "cheat sheet", a 3×5 card with last-minute reminders of the nitpicked items my trainer kept hitting during my lessons. I close my eyes and ride each movement, each half halt. I carefully put on the finishing touch of a bright red lipstick and take one last look in the mirror.  In the warmup, I can feel my horse really with me again. He's finally back on full calories after his colic Tuesday night and is eager to please. We're ready. A few transitions around the arena, stop at F, and nod for the music. The hard stuff is all in the first two minutes of my freestyle. Once I've gotten past the extended trot down the long side, the 3 canter-trot-canter transitions up centre line into a flying change, the medium canter into a counter canter, to a canter/walk, I know I'm home free. The rest is a cake walk.   Actually, it's a medium walk to an extended walk, into a collected canter. As I begin to pick up my reins, I catch something red out of the corner of my eye. Snickers spooks a little. I regain his attention and urge him into the canter. I found out later that a couple of kids were rolling down the hill between the bleachers. Over and over. Turns out that they had been reprimanded earlier.
There is so much time, money, and tears invested in showing at this level – trying to make a short list for WEG – any blip in a test can mean you are out of the running. I had to think fast. But his spook meant I was facing in almost the opposite direction of my choreography. I decided I didn't have enough space for the counter canter loop there, so I flipped that part of the choreography with another section.  I know my music. Start it anywhere and I can tell you where I should be and what I should be doing. I wish the other side of my brain worked like this! I know I can catch up to the music if I just keep my cool and remember to put the missing counter canter back in. The music swells again as I trot up centerline. I know I've completed all the requirements. It may not have been my best freestyle, but it was under control, fun to ride, and had a lot of great elements. Later, a spectator commented that she was afraid he'd bolt after the spook. Honestly, it never crossed my mind.  I saluted, knowing I had done all I could in the situation. Was it enough? We'll know on May 23rd when they announce who will go to Virginia in July for the Invitational. Until then, I'll show about every two weeks through June, with a Fix-a-Test Clinic thrown in for good measure. What I love about dressage is that with every atom of my being, I'm competing to represent my country. But if I don't make the cut, I'll continue learning every day, to try again. Japan is only 2 years away.